Here at The Vale we have a fantastic highly experienced team ready to help you improve your enjoyment of the game by working with you on your golf.
With our great facilities we can work with you on all elements from long game through pitching, chipping, bunkers and putting to psychology and course management. We use video and flight scopes in our studio to enhance the experience if requested.
Why Coaching?
We're passionate about helping you play better golf.
Every golfer enjoys the game more when they're hitting good shots and playing well. This is our mission for you.
Think back to your last few rounds and try to pinpoint an area that cost you shots…
Maybe, you had too many three-putts as a result of poor distance control? Or did you miss too many fairways to the right meaning you had to chip out sideways? It could be that you play well in practice rounds with your friends but struggle to replicate that in competitions?
Through our experiences in the game and our PGA education, we appreciate that every golfer is different. That's why we offer a range of lessons and packages to suit everyone.
Lessons will cover:
Golf Fundamentals
Swing Basics
Short Game
Long Game
Course Management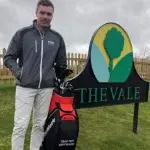 Tim Shephard - Head PGA Professional
Tim is a fully qualified PGA Professional and has a passion for teaching. He has built a strong reputation in teaching and has developed junior academies. He is now offering custom fits in our teaching studio as well as on course lessons.
---
Harry Thompson - PGA Professional
Harry has been part of the team at The Vale for over 12 years. He is popular, ever helpful and a fully qualified PGA Professional. He has a passion for teaching the game to all standards and ages, including junior coaching. With a strong following Harry gains great satisfaction from seeing his clients improve their game and he specialises in course lessons.
---
Ben Selby
---
Alec Emms
---